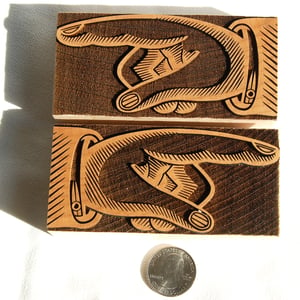 $

65.00
A set of two 12 line Manicules, laser cut into end grain hard maple.
Sometimes also called Printer's Fist, Pointer, or Index. The Hamilton design reflects the American trend in the 1800's to use fine engraving lines. This one was inspired from the #14 Hamilton Wood Type Specimen Book. The trimming and engraving on Hamilton's wood type in the 1880's was performed by a room full of talented women type trimmers.
The 12 line size, a full 2 inches tall, works well on post cards or small greeting cards.